International Arts Festival Poster Contest
From Sugar Land Parks and Recreation:
GET IN ON THE FUN WITH OUR FIRST ANNUAL INTERNATIONAL ARTS FESTIVAL POSTER CONTEST!
(The deadline for poster entries is April 22, 2019).
See the event page for details!
EVENT PAGE: http://bit.ly/2K37u5w
ENTRY FORM: http://bit.ly/2uJUeZe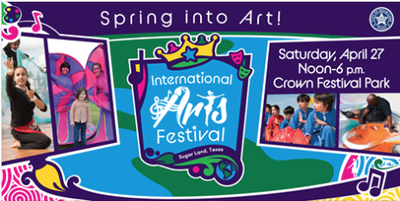 *** Guests may comment by entering name and email address (email will not be displayed). Members please Log In. ***
Talk with your Sugar Land, TX area neighbors!