Volunteer at Sugar Land Animal Services
From Petopia- City of Sugar Land Animal Services:
We have big news! Becoming a volunteer with the shelter is easier than ever before...
Our application process is now entirely online- including the orientation!
Visit-->
www.sugarlandtx.gov/volunteer to help the animals in your community!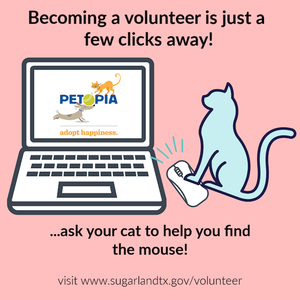 *** Guests may comment by entering name and email address (email will not be displayed). Members please Log In. ***
Talk with your Sugar Land, TX area neighbors!