Wow this is great traffic box art!
From The City of Sugar Land, Texas – City Government Facebook page:
Have you seen any of the newly wrapped traffic boxes along Hwy 90? This one, called Sweet Transformation, is at the corner of Hwy 90 and Schlumberger Drive. Created by Joy Chandler, she says, "Sweet Transformation is a mixed media project that highlights two ideas: the first, the endangered Monarch Butterflies that are native to Sugar Land, and second, the metamorphosis or transformation of the beautiful City of Sugar Land. I was inspired to do this artwork by a friend, Nancy Cartie, who is a volunteer rescuer and champion of the Monarch Butterfly."
For more on the City's traffic box project– which is part of the City's public art program and funded through revenues restricted for economic development and tourism, go to www.sugarlandtx.gov/TrafficBox.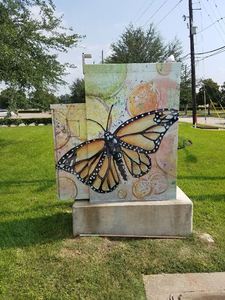 *** Guests may comment by entering name and email address (email will not be displayed). Members please Log In. ***
Talk with your Sugar Land, TX area neighbors!