Sugar Land police are looking for a man seen on video stealing Ray-Ban sunglasses totaling more than $1,900.
Employees at Lenscrafters, 16535 Southwest Freeway, noticed the glasses missing on Oct. 17 at 2:30 p.m. A review surveillance video showed a man enter the store two hours earlier, place at least 10 pair of sunglasses in his pockets and leave without paying.
He was a black man wearing a grey jacket and grey sweatpants who appeared to be in his 30s. He had a beard, and his hair was in braids.
Anyone with information should call the Sugar Land Police Department at (281) 275-2540 or Fort Bend County Crime Stoppers at (281) 342-TIPS (8477).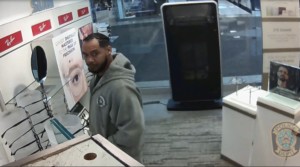 See video:
http://webtools.sugarlandtx.gov/_blind/2018/18-theft185601/index.html
This is a News Release from the City of Sugar Land.