During these uncertain times, Fort Bend County Commissioner Ken R. DeMerchant's "The Meal Bus" is racing ahead to serve the needs of the county. In collaboration with Fort Bend County Public Transportation, The Meal Bus is now able to deliver meals safely to the senior residents of Fort Bend County on behalf of Fort Bend Senior Meals on Wheels (FBSMW).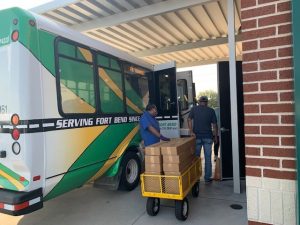 The Meal Bus came into being when Commissioner DeMerchant saw an opportunity to repurpose Fort Bend County's buses from solely transporting people to include transporting meals during these highly restrictive times of public safety.
"We are grateful to have this partnership available to us," stated Rick Branek, Field Operations Manager of FBSMW. The meal delivery, which started on April 27, 2020, will continue its route to serve the seniors every Monday and Thursday until normal operations resume.
Kevin Thompson, Operations Manager of Fort Bend Transit shared his sentiments, "It is an honor and a privilege to work alongside the Fort Bend Seniors team during the COVID-19 pandemic. Yesterday was a reminder that we are all in this together."
DeMerchant hopes to seek out other avenues to drive "The Meal Bus" for the benefit of the community.