From the City of Sugar Land:
The Texas National Emergency Number Association (NENA) recently named Public Safety Dispatcher Amanda Davis the 2021 Training Professional of the Year.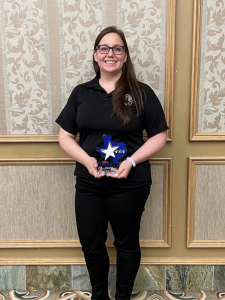 The Texas NENA board recognized Davis for the creation and implementation of an extensive training program that focuses on professional development for seasoned dispatchers, exceeding standards required by the state.
With seconds making the difference between life, death and property loss, it's often quick decisions of an important group of unsung heroes playing a decisive factor in the outcome of emergencies. Sugar Land's public safety dispatchers quickly size up situations and allocate necessary resources to mitigate calls for help.  They also provide critical instructions for callers to follow before help arrives.
Davis helps make sure Sugar Land's dispatchers are prepared when those critical calls drop. Their role involves more than sending police to a crime scene or firefighters to a fire. Dispatchers calm, question and advise callers to obtain accurate and essential information.
The training developed by Davis consists of a "Weekly Training Minute," a quick email distributed each week that contains topics relevant to the important work dispatchers do on a daily basis to keep Sugar Land among the safest cities in the nation. The training minutes contain nuggets of information that help assist dispatchers in their daily work, clear up confusion over procedures, teach useful information about the city and provide easy to understand refresher on policies and procedures.
"It's amazing we hadn't thought of this before," said Public Safety Dispatch Director Shannon Price. "It's often the simple, easy to implement solutions that have the most profound impact on the important work these men and women contribute to the safety of our city. I couldn't be more proud of Amanda's contributions. She's a real example of the outstanding first-responders who staff our dispatch center around the clock."
Events in Sugar Land continue to highlight the work of the city's public safety dispatchers. Whether responding to fires, highway accidents or medical calls for help, dispatchers are part of a highly trained team of responders.
When citizens call for help, they're the voice on the other end of the line, and Davis is making sure they're ready to help 24/7.
"Our ability to size up situations and allocate the appropriate resources under high stress situations is crucial during emergencies," said Price. "Sugar Land is fortunate to have the best dispatchers in the business. Amanda is an example of that, and we're all very proud. I couldn't agree more with the board's decision."
According to her peers, Davis is without a doubt one of the department's lead trainers. She fully epitomizes the saying that states, "Training doesn't stop at the end of the training program." Amanda is a member of the city's yearly policy review committee and continuously makes vital updates to training materials and presentations for new recruits.